Thousands of companies of all sizes all around the globe use email marketing systems.
Think about it, you have received many emails from all kinds of businesses, especially if you are a customer.
Those unfamiliar with doing marketing through emails may not immediately understand why it is so popular among brands and companies.
If that is you, do not worry, you will see it clear by the end of this article, I promise.
First of all, email marketing presents more opportunities for your business and drives a better return on investment (ROI).
With the breakthrough of social media, SEO, and mobile marketing, email is on the verge of death, some say. Well, that is not true. Email marketing is alive and well.
Let's go through a list of 13 key benefits of email marketing for small businesses. With this, you can understand why it is one of the most profitable ways of doing marketing.
Email is mobile
Technology is moving further away from desktop computers and gets more involved in the use of portable devices. It is important to include mobile users in your marketing efforts.
In 2020, the number of smartphone users in the United States was estimated to reach 294.15 million.
In February 2021, it was estimated that 85% of adults in the US own a Smartphone. This number keeps growing every day.
If you look closely at those email facts and statistics, mobile's impact is undeniable, and email is one dimension of your marketing strategy that is affected by it. 
Now, emails are opened more on mobile than desktop, and mobile users check their email several times a day.
It is a traffic percentage that you cannot allow yourself to lose.
If you consider the advantages and disadvantages of mobile marketing, this type of email marketing is a must.
Email waits for you
Email is particularly convenient because it waits for you and fits your schedule.
It does not demand that you structure your activities to synchronize with those you communicate with.
An email subscriber does not have to be available when you send an email.
This kind of convenience makes email marketing one of the best ways of communicating with your audience or customers.
Email marketing is Almost Free
Email marketing for small business owners is very low-cost compared to other mainstream marketing channels.
Unlike advertising, for example, you do not have to pay anything to show your content.
All you need is an email marketing autoresponder to automate, track and test your messages.
You can use an email marketing software tool to send many messages to thousands of people, and the cost is far less expensive than other marketing channels.
There are very cheap email marketing platforms that you can try if you are working on a budget. There are even free email marketing tools if you are starting and do not want to spend money.
Communicating with your audience
Email gives you the ability to connect with your audience in a very proximate way. This is another one of the many benefits of email marketing.
More than any other platform, email lets you stay in constant contact with your audience.
Of course, you can have a heavy social media presence to communicate with your audience. But you cannot be sure that all engage with the platform every day.
Email, you know is a channel that people use every day.
You can nurture your list by giving value and communicating. Whenever you have something new to tell your clients/subscribers you can merely send an email to your list.
It is an excellent opportunity to kick off your relationship with subscribers. Give them content they love, and they will be craving for more.
Permission-based
Think about it: people join your email list voluntarily because they want something of value. It can be an answer to a question, a solution to a problem. 
Once you give them value (as you should), they will be more likely to do something for you in return.
It is a matter of giving and receiving, like any other relationship. The more you give, the more your list will trust and rely on you.
Prospects and clients join your list because they want to hear more from you. If you do the work right, you will have access to warm leads every day.
Those warm leads have shown interest in your site, brand, or product. It means that they are the perfect people to share new content with.
Targeted Messages
Everybody is different and has peculiar tastes. In marketing, this is very important. Sending the wrong message to the wrong person can hurt your relationship with a customer.
You do not try to sell meat to vegetarians, right? I mean, you can, but you probably can guess the outcome of that.
To avoid sending the wrong message to your subscribers, you can segment your list with tags.
It means you can separate your contacts by gender, location, age, favorite hobby, etc.
You can send targeted emails with relevant information to a specific segmented group.
You can separate the vegetarians from the meat lovers and sell the steaks only to the last ones. I know you got the point, but it was only to make sure.
Email marketing is easy to set up and manage
Setting up an email marketing autoresponder is very easy. Most platforms put it super easy to create email automation without any tech knowledge.
They also provide many email marketing training on how to set up everything. As you see, it is not something that you have to dedicate much time to.
After the automation email is up and running, everything works on autopilot. It means that you do not even have to touch it if you set everything up right from the beginning.
All you have to do is send automatic emails based on triggers (actions from users such as opt-in to your newsletter, for example).
It allows you to focus on your business's needs without spending much time communicating with your list.
Reach a global audience with email marketing
It is known that at least half of the world's population has an email account. That is your potential reach if you think about it.
Everybody online needs an email account to sign up to most social media websites such as Facebook or Twitter. You even need an email account to buy something online.
Because of the necessity of having an active email account, email marketing has a global reach. It allows you to connect with anyone from around the world.
Measurable
At the end of the day, it does not matter how optimized your emails are if you cannot see the results of your efforts.
It is where Analytics comes in. Most email marketing platforms provide them. You only need to understand which metrics you should look at.
Here is a list of some of the most important ones:
Return on investment (ROI)
Email Sharing (Forwarding Rate)
Those are some of the metrics that you should be paying attention to. Those metrics give you an overview of everything you can measure with email marketing.
Increase your website's traffic
Email is a tried-and-true way to generate traffic. This powerful outreach tool enables you to drive specific people to specific pages. It is a great way to save money on advertising.
To use email to drive traffic to your website, you can create an email newsletter with valuable information and promotions. It could be a blog article to read or a special offer to take advantage of.
This might not be the most efficient way to bring a lot of new visitors. But it is a powerful way of generating visits from your best audience: the one that already knows you.
One of the most important things is that you are talking to people who subscribed to your list. Those are the ones who want to hear from you.
Boost sales
How can email marketing boost the sales of a business?
With email automation, you can achieve the main focus of all marketing campaigns. This, of course, drives conversions.
Your ultimate goal should be to convert potential customers into paying customers.
When it comes to this, there is not a better channel than email. You are more likely to get a click on your website via email than you are from any other platform.
Your email list is where your clients are. Your best customers. Those who are interested in your content or product.
The ability to send promotions, updates, or a new blog post directly to your best fans is super valuable.
Email marketing can drive conversions, and it is one of the best marketing channels to drive a great Return on Investment (ROI).
The Best Return on Investment
Email marketing can yield an almost unbelievable return on investment for your business.
Using email is not only the right way to do marketing but is also the most cost-effective channel.
You do not have to pay a lot to create marketing campaigns like in traditional marketing. And definitely, takes not long to produce.
One single person working on a budget is capable of setting up a successful email marketing campaign.
All you need is a good copy (the art of writing a good email). You can try to do it yourself or hire a professional copywriter.
As mentioned earlier, you can find affordable email autoresponders that do the work well. You do not have to invest too much if you are only starting a business, for example.
Affordable, easy, and fast to set up, but with the power to impact your business tremendously with more leads and revenue.
Owning your contact list
You are in control. That's right. On platforms like social media, you do not own anything and can be kicked out at any time. With your email list, you have an asset that is yours.
With social media, the platforms own the content and your follower list, for example.
If social media goes away tomorrow and that is all you have to do business, how many customers do you lose?
Not to mention the fact that platforms like Facebook are pretty sensitive. They will suspend your account if you do not follow the rules. And you do not have to go too far for that to happen, believe me.
It is why it is crucially essential to set up an email marketing system. A list of contacts that you own and can interact with them on your terms.
In my opinion, the most significant value of email marketing is that you are in control. You do not depend on any platform.
The benefits of email marketing – Conclusion
By now, you should have a clear picture of the main benefits of email marketing.
Email marketing is one of the best ways to reach your audience. It is one place where people want to receive information from you.
It is a convenient and fast technology that waits for you, used by half of the world's population.
Email is the ultimate way to maximize your marketing efforts. And I highly suggest that you put it in place in your marketing.
When to use email marketing? The benefits of email marketing are huge, as you may conclude at this point. So, the answer is as soon as possible. You should set up email marketing systems from the beginning.
The sooner you start, the sooner you build your email list. It is just like growing a following on social media but owning the data.
There are also some disadvantages of email marketing, like spam and undelivered emails. But I still think the challenges of email marketing are worth the effort.
You can also avoid those risks of email marketing by learning about using best practices for fighting spam.
Email marketing examples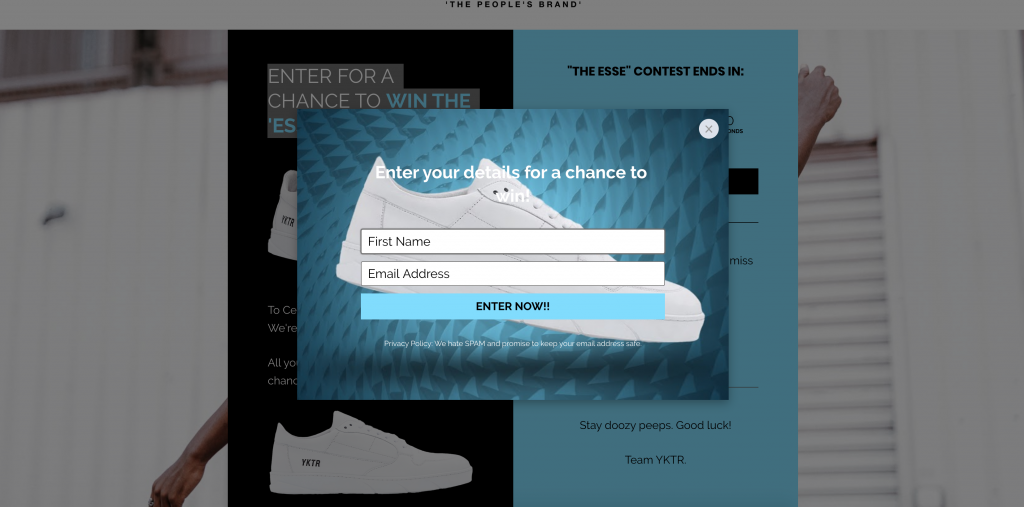 Optin form in your website (give something in return such as PDF, eBook, or video)
Squeeze page (create a landing page with a lead magnet and mentioned above and ask for an email to download).
Paid advertising (Squeeze page concept with paid traffic).
Invite people on social media to subscribe to your newsletter.
If you are creative, you can play with different types of email marketing and check out what works best.
You can check out our top email autoresponder recommendations if you need help. We provide in-depth and comprehensive reviews of the best options in the market. So definitely check them out.
If you need help or have any questions about the email marketing world, you can always contact us.
Also, follow us on Twitter, where you can also interact and ask questions.
I hope this article was helpful to you. Make sure you understand the benefits of email marketing in your business.