General Info and overview
Founded in 1996 in Los Angeles, California, Dreamhost has stood the test of time. They have grown to host over 1.5 million websites and have almost half a million customers.
They are one of the most popular hosting providers for WordPress.
WordPress endorses them on their official Website, right next to Bluehost and SiteGround. 
They have an excellent reputation backed up with awards and popularity.
They support and use open source technologies and platforms like WordPress and Joomla.
Dreamhost provides many services, such as:
Website hosting
Email hosting
WordPress dedicated hosting
Woocommerce dedicated hosting
Cloud Services
Domain Registration
Website Builder tool
Their cheapest plan starts at $2.59/mo and is ideal for users with a single website with small/medium amounts of traffic. The basic plan offers all the essential features, but the company also provides additional hosting options such as dedicated servers, VPS, or cloud hosting. 
Pros and cons 
Pros:
97-day money-back guarantee
User-friendly
Top customer service
Reliable uptime and speed
Many security features
Good value for money
Free site migration
Unlimited disk space and bandwidth
Month to month plan (cancel anytime)
Cons: 
Loading time could be faster
Limited live chat support
Servers only in US location
Uptime and performance
Uptime
This aspect is the most important thing when choosing a hosting provider. This metric has to do with the time that your website is live. You want the percentage to be as close as possible to 100%. Some services have constant interruptions, and their uptime suffers.
When reviewing a hosting provider uptime guarantee, be sure to pay attention to the guaranteed uptime percentage. Usually should be a 99,9% minimum.
This percentage is especially crucial if you are running an online store or an agency. You need to be open, always.
Dreamhost's uptime results are astonishing, and they have had 99,99% for the last year. It cannot be better than this.
Speed
Nobody wants their website to be slow. Speed is terrible for user experience and SEO. Fast hosting is a fundamental factor for your website to load quickly.
Dreamhost sites are fast, but they are not the fastest in the industry. Their loading speed is under 2.5 seconds on average.
They are not as fast as SiteGround. If speed is a mandatory factor for you, maybe you should choose SiteGround instead. 
They use SSD drives for fasting loading speed on all plans.
Hosting plans
Shared: They are cheap and designed for beginners. You will share a server with other websites, just like flat sharing. That is why it is affordable but also noisier. Those plans offer a user-friendly interface with all the essential basic features to host a website.
VPS: A Virtual Private Server is a shared hosting server split into smaller servers, giving you more ability to fit your specific needs. A VPS hosting plan means that your website will be hosted separately from other people using DreamHost. It is better suited for larger businesses and delivers better performance.
Dedicated: The ideal plan for larger projects with lots of traffic. This hosting plan means having the whole house for yourself, so you will not run the risk of getting bogged down by others. The downside is that it is the most expensive hosting plan (in every hosting provider).
CloudHost: Cloud hosting is an alternative to the traditional single-server way. This hosting method spreads your resources across multiple servers. Cloud hosting allows sites to increase server needs whenever needed.
Managed plans
WordPress:
WordPress publicly recommends Dreamhost, and they have dedicated hosting plans for the popular platform. If you are planning on building a WordPress site, this is probably the way to go. 
Dreamhost offers three different categories for WordPress websites: WordPress Basic, DreamPass, and VPS WordPress.
The managed WordPress plans give your website all the proper treatment for the platform, such as auto-updates, performing daily backups, and WordPress-specific security features.
All WordPress dedicated plans come with:
Automatic WordPress core updates for security
Private IP address and SSL certificate pre-installed for eCommerce sites
SSD storage and unmetered bandwidth
Web application firewall to block malware and brute-force attack mitigation.
One-click staging site set up
Free website builder along with on-demand as well as daily backups
DreamPress Pro and Plus plans also include unlimited CDN and Jetpack Professional add-on features.
Dedicated hosting with your CPU server resources for maximum performance.
Woocomerce:
Dreamhost also has a dedicated plan for online stores. If you are planning on building an eCommerce site, this plan is designed specifically for that.
The platform provides free ZenCart that you can easily access from the one-click install menu.
The WooComerce installation is also easy to set up with all you need to start selling your products.
They also provide advanced analytics via Chartbeat.
All plans include:
Free Daily Backups
Domain name
SSL Security Certificate
Unlimited traffic
Unmetered bandwidth
One-click installs and Automated updates
Site Migration
Like most web-hosting providers, Dreamhost offers free site migration for WordPress websites only.
If you are using another platform, like Wix, Weebly, etc. You have to pay a fee.
This service is good news for WordPress websites. They make it super easy if you change your hosting provider.
There are many reasons for you to consider changing your hosting provider: Bad performance, customer service, higher renewal rates, etc…
Other Dreamhost services
Domains: If you do not have a domain name, they offer a free domain with all the plans. They also allow you to purchase domain names directly from them if you need them.
Email: You can host your private email account with Dreamhost. They give you access to unlimited email accounts for anything above the basic shared hosting plan. If your domain is 'website.com', you can have an email '[email protected]' to contact your visitors and implement email marketing on your site. Dreamhost webmail is easy to set up, so getting a Dreamhost email should be a smooth process.
DreamHost Website Builder: Building a website if you are just starting can be complicated. Not with DreamHost. They give you access to their website builder. You can start building your website with premade templates ready to customize with a drag-and-drop editor. This new feature is huge, and it is perfect for newbies.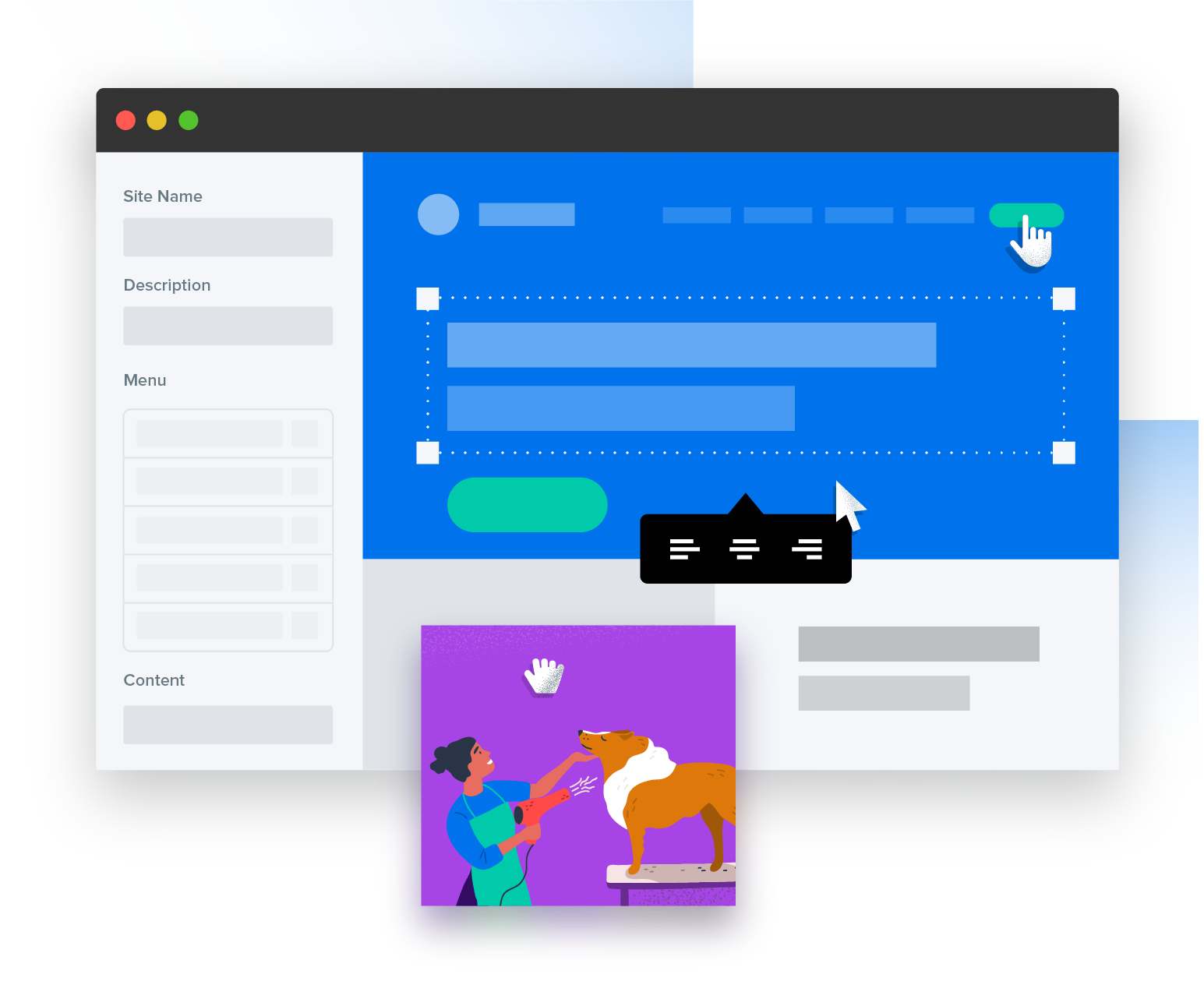 DreamHost dashboard
Dreamhost's control panel is one of the main advantages. It is super easy to use, modern, and clean. It is the perfect dashboard for beginners.
The panel is not CPanel-based, which means you may find that some advanced features are missing.
Their dashboard is dummy-proof. It is almost impossible to feel overwhelmed with it.
For the pages that require more technical knowledge, Dreamhost provides good customer base explanations.
I found that Dreamhost's interface is probably the easiest to interact with. It also has the most modern layout, which is perfect for those who just want a straightforward hosting platform.
Security features
Dreamhost provides a free SSL Certificate. This feature is an encrypted layer of security that every site should have.
They also offer SSH and SFTP access, and it also supports HTTP/2, PHP 7, and has its firewall.
Dreamhost also gives you the ability to block spiders from crawling parts of your website that you do not want on Search Engines.
Their security features are very satisfying for most users. They offer what most hosting providers offer and more.
Customer Support
Dreamhost provides support through email and tickets. You can also contact the company via live chat and Twitter.
The live chat can be limited at some hours of the day, but it is mostly ok.
Their customer service is not as good as SiteGround's, for example, but it is also not terrible at all. 
The company provides an excellent knowledge base and discussion forums to help customers solve their problems.
DreamHost Pricing: Shared Hosting Plans Comparison
Dreamhost plans come with lots of value for their price. Their cheapest plan comes with:
Free Domain
Unlimited Traffic
WordPress pre-instaled
Free site migration
WP Website Builder 
DreamHost's pricing plan is very flexible. You can pay monthly or commit for one or three years. The longer, the better deal you get (just like with most competitors).
The price starts at $2.59/mo if you choose the 3-year plan. This plan is one of the cheapest options in the market.
If you want to pay month-by-month, the price starts at $4.95/mo.
DreamHost renewal cost
The $2.59/mo is a DreamHost special deal for new customers. Just like with most hosting companies, the plan renews at a regular price. This renewal can be after one year or three, depending on the plan that you choose.
Dreamhost's regular shared plan price is currently $5.99/mo. This cost is the price that you will pay after renewal.
If you choose the 3-year plan, you will pay $2.59/mo for three years and then $5.99/mo after that.
Please note that this is a common practice among almost all web hosting companies.
SiteGround is probably the only one that is different. They only have monthly plans, and you pay month-to-month, and that is it. It gets more expensive but gives you more flexibility.
You can always look for another host before the renewal and migrate your website. Many people do this to get the best deals from the hosting companies and avoid the higher renewal costs.
97-day money-back guarantee
This guarantee is outstanding because it eliminates all the risks. You have plenty of time to decide if you are happy with their service or not. If you are not, you can ask for your money back. This long period says a lot about their confidence in the product. Not many companies give you this long to ask for your money back.
The guarantee is just for hosting plans. It does not include other services, such as domains or email, for example.
Is DreamHost the right hosting provider for you?
Just like most of its competitors, it has its strengths and weaknesses.
We highly recommend DreamHost if you are looking for an easy-to-use platform.
If you are looking for cheap hosting, they are an option to consider. DreamHost and Bluehost are the best affordable hosting companies in the market. 
A customer base of millions trusts their services, so you can say that they are reliable.
Conclusion
Do we recommend DreamHost? Yes, we do! 
DreamHost can be a perfect option for many people, especially beginners.
There is a good reason for their official recommendation by WordPress.
They have a good reputation and are a reliable company.
They may not be the top performers in the industry, but you cannot find much better than this for the price.
Their service is perfect for people looking for cheap hosting but does not want to sacrifice quality.
Their basic shared hosting plan is among the best value for your money in the whole market.
DreamHost alternatives
FAQS
Are you a DreamHost user? Let us know what you think…